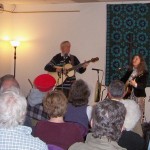 We aim to please!  We can offer an enticing blend of Celtic, American, and Original selections, sometimes including other tunes, like "Down Under" selections.
We can focus on all-Celtic, or on music reflecting American lifestyles.  For example, we have performed at Western guest resorts, and done many St. Patrick's Day events, as well as "Burns Night" (Jan 25-birthday of Scotland's Robert Burns, celebrated worldwide).  So – find the music samples that appeal to you.   (Prefer VIDEO? – click HERE.)
Click LISTEN and you will be whisked to that page in a new window…
(1)  LISTEN  to QUICK COMPILATIONS:  Original, Celtic, or American Lifestyles.
(2) LISTEN to ORIGINAL compositions by Robert & Ronnee-Sue. Copyright & performance rights held © (P)
(3) LISTEN to CELTIC music.
(4) LISTEN to music reflecting AMERICAN LIFESTYLES (which can include music from other countries when their culture connects to ours).
©(P)Copyright & sound recording rights held on all music and video; copyright held on text and  photos.  Please ask for permission to copy or download.  (We encourage downloading the brochure & promotional package materials.)
CONTACT US (see below):  Please use email or Facebook (see also buttons on left sidebar).
Mountain Aire's FACEBOOK Page (click)
Mountain Aire's YouTUBE Page (click) 
EMAIL: music1 (AT) MountainAireFolkMusic (dot) com