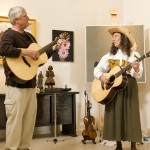 Rural life and historical stories are often our main focus.  Songs from other eras or faraway lands are included, consistent with our desire to connect audiences to people of another time or place when we can connect with shared experiences or emotions.
Some American Lifestyle songs are also in our "POTPOURRI" VIDEO DEMO – click HERE.  (For an index to all VIDEO pages – click HERE.)
In a hurry?  Check out our AUDIO COMPILATION of "American Lifestyle" clips–click HERE.
(1)  Blues for Dixie (O.W. Mayo/Cindy Walker; Guitars-Vocals; 1:52 minutes)
(2) Sylvie (Hudie Ledbetter-"Leadbelly"; a capella with audience participation; 2:39 minutes)
(3) Bonaparte Crossing the Rhine aka Sherman's March to the Sea  (A traditional tune used in dances and one of fiddlers' favorites, Fiddle-Guitar, 2:09 minutes)
(4)  The Cat Came Back (Henry S. Miller 1893 & Trad., this song goes back to soap-sellers of the 1890's; Guitar-Fiddle-Vocals, 3:34 minutes)
(5) Whiskey Before Breakfast & Fiddler's Dram  (Canadian & Bluegrass/Old-Time "hoe-downs"; Fiddle-Guitar; 1:42 minutes)
(6)  Talking Dog (Peter Cape, New Zealand; lonely guys living out in the boonies might have the the same problems in this country! Mandolin-Guitar; 3:04 minutes)
(7) Stone's Rag (Oscar Stone-Texas; Fiddle-Guitar; 2:00 minutes)
(8) From the Lambing to the Wool (Judy Small-Australia; this song captures the life of some ranching friends in Idaho and Wyoming; Guitars-Vocals; 4:54 minutes)
©(P)Copyright & sound recording rights held on all music and video; copyright held on text and  photos.  Please ask for permission to copy or download.  (We encourage downloading the brochure & promotional package materials.)
CONTACT US (see below):  Please use email or Facebook (see also buttons on left sidebar).
Mountain Aire's FACEBOOK Page (click)
Mountain Aire's YouTUBE Page (click) 
EMAIL: music1 (AT) MountainAireFolkMusic (dot) com