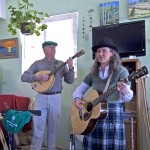 We perform a mix of Scottish and Irish songs on a variety of instruments, usually including the octave mandolin and the bodhran (Irish drum) as well as our usual fiddle-flute-guitars-vocals.
We have performed for St. Patrick's Day events, Samhuinn,  and have presented a "Burns Night" concert in keeping with the worldwide celebration of Scotland's Robert Burns  on January 25.
CELTIC VIDEO DEMO available – click HERE (& scroll down to #2).   Check out our lively  "Tim Finnegan's Wake"!  (For a guide to all VIDEOs – click HERE.)
In a hurry?  Check out our AUDIO COMPILATION of CELTIC clips –click HERE.
(1) St. Patrick's Day (Trad. Irish; Octave Mandolin-Fiddle; 1:44 minutes)
(2) Rantin' Rovin' Robin (There Was A Lad) – Robert Burns' autobiographical song from the 1700's (Scotland; Guitars-Vocals; 3:15 minutes)
(3)  The Soft Horse Reel (Scotland-Phil Cunningham; Flute-Bodhran; 1:47 minutes)
(4) Mary Mack (Trad. Scottish; a capella Vocals – a Scots tongue-twister;  2:29 minutes)
(5) 3 Jigs:  The Road to Lisdoonvarna – Killavil Jig – Swallowtail Jig (Traditional Irish; Fiddle-Guitar; 2:05 minutes)
(6)  Bruac Na Carraige Baine (Brink of the White Rocks) –  (Trad. Irish; Flute-Guitar-1:47 minutes)
(7) Auld Davy's Drawers  (Scotland-Ian Middleton; a capella Vocals in Nor'east Scots with audience participation encouraged; 3:59 minutes)
(8) All the Way to Galway (Traditional Irish march; Flute-Bodhran; 1:42 minutes)
(9) Smile in Your Sleep (Scotland-Jim McLean; a lullaby about the oppression following the 1746 attempt to put Bonnie Prince Charlie on the throne of England; Guitars-Vocals; 3:41 minutes)
(10) Na Madrai San Eorna (The Fox in the Barley) (Trad. Irish; Flute-Guitar; 1:20 minutes)
©(P)Copyright & sound recording rights held on all music and video; copyright held on text and  photos.  Please ask for permission to copy or download.  (We encourage downloading the brochure & promotional package materials.)
CONTACT US (see below):  Please use email or Facebook (see also buttons on left sidebar).
Mountain Aire's FACEBOOK Page (click)
Mountain Aire's YouTUBE Page (click) 
EMAIL: music1 (AT) MountainAireFolkMusic (dot) com